Calligraphy provides an elegant and personal touch to communication.
Peter Taylor's Calligraphics in Brisbane specialises in personalising certificates and stationery for corporate functions, and events and in creating gifts and presentations. Peter also writes names in books (for sports award winners, or donors to worthy causes, for example), and other requirements.
Presentation calligraphy
Pre-printed certificates are traditionally completed in archival quality black ink. Most commonly, Peter writes in Italic calligraphy, as used below, though other writing styles can be used and corporate colours matched, if preferred.
The cost is usually around AU$2-3 per line but a fixed price quotation will be given if you can provide the certificate size and design and a representative sample of the information to be added, so that completion time can be estimated.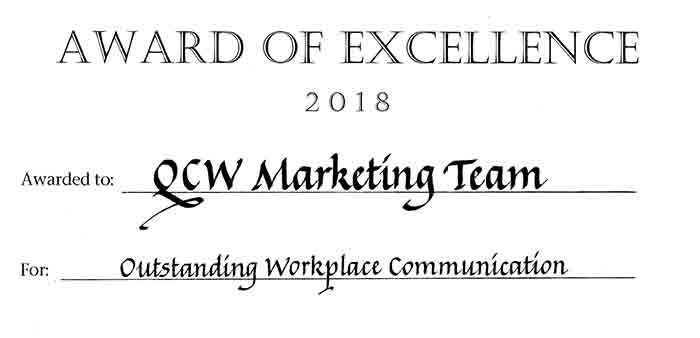 Presentations can also be created entirely by hand including hand-drawn borders and features. or be a mixture of print and calligraphy.
Tip for the design of certificates and stationery that will be printed and then have calligraphic additions…
When organising the printing of certificates or invitations, please tell your printer/designer that the names will added in calligraphy using water based ink so that card or paper stock and the printing method can be selected with this in mind. Some high gloss and metallic papers and card are impossible to write on, as are surfaces or backgrounds that have been laser colour-printed.
So that the calligraphy can be added elegantly without looking cramped, it is also a good idea, prior to creating the certificate layout, to tell the designer how long the names will be or how much information will be added so that sufficient space can be provided.
Calligraphy can be created for inclusion in the certificate design. Parchment and Mohawk Superfine Eggshell papers are excellent to write on, if you are selecting a paper for certificates or book pages.
Event calligraphy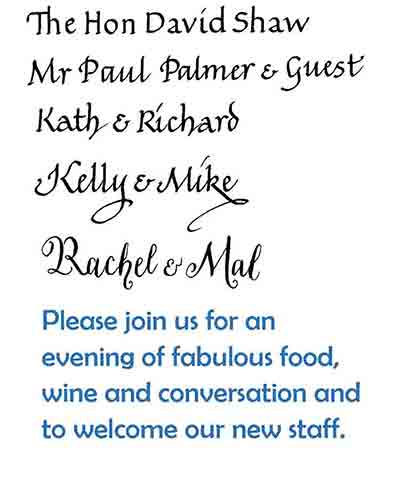 The cost of guest names on invitations and place cards will depend on the length of names, if they have to be centred in a space, the preferred writing style (the middle three in the sample, written in black ink are the cheapest), ink or paint colour (gold, silver and white on coloured paper are the hardest and most costly)… …
Small signs, labels and name tags can be elegantly written on paper or card in calligraphy, too.
Please let us know what you actually require and Peter will write samples, time himself and provide a quotation.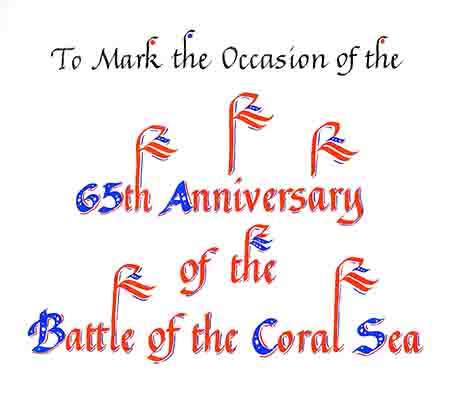 Logo design
Peter can design logos that clients wish to look 'hand written'. If they need to be used at large size with a type-like quality, the client will need to give the artwork to a professional graphic artist for it to be converted to smooth vector files.
Corporate gifts and artwork
Poems and favourite sayings written in calligraphy make excellent corporate gifts for overseas customers or when colleagues marry, leave or retire, for example, or to enhance the corporate culture.
You may find other ideas on the Poems and Gifts page and also on those dedicated to Weddings and to Artworks.