Professional calligraphy for weddings and all special occasions.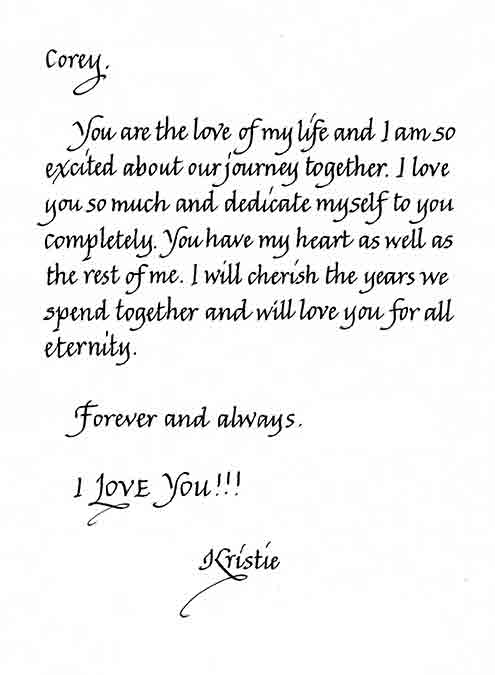 Peter Taylor will delight you and your guests with the elegant personal touch …from love letters to wedding ceremonies, anniversaries, birthdays, births and beyond – Peter Taylor's Calligraphics in Brisbane provides professional calligraphy to fulfill all your requirements.
Peter can add names to invitations, menus and  place cards, and address envelopes if you wish.
It obviously takes less time to write 'Sam' on an invitation than to write 'Mr and Mrs Callisthenes and Anastasia Papadopoulos and Family'.
It's a lot quicker to write in black ink with a fountain pen than to write in gold paint on black paper with a dip nib.
Once you provide details of exactly what you want, and perhaps an image and size of the stationery, and a selection of guest names, including the longest one, Peter will write and scan a sample or two and email them back, having timed himself, and will provide a maximum cost quotation. If it takes less time that is anticipated to complete the work, you will pay according to the actual time taken.
A significant part of the cost is making sure that, as close as humanly possible, names are written centrally.
As a very very rough guide, when writing on invitations in black ink on smooth white or cream paper/card in Italic script, the cost is unlikely to be less than $1.20 or more than $2.20 each. Writing on place cards is usually between $1.10 and $1.80 each …Again, Peter will write a sample and time himself when you provide a place card size size and a guest list, and you will receive a fixed quotation for the maximum you will pay (but the total could be a little less).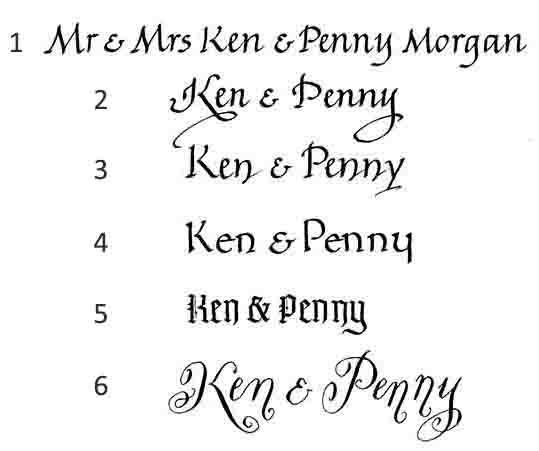 The first three samples are written in  versions of Italic – plain, flourished and with Celtic influences.
Samples 4-6 take more time to write and the cost will increase a fraction. 4  is traditional Celtic script. It takes up more space than other styles. 5 is Gothic (often called Old English).
If stationery has been printed in a type-face, a contrasting calligraphy style is recommended, as writing by hand can never match exactly.
Modern calligraphy, sample 6, takes up most space, and for Peter, is only appropriate when there are few words to add and they can be written at a moderate size.
On average white envelopes written in black ink in Italic style cost $4 each. Gold, silver or white are used to best effect on dark papers. Gold and silver writing is reflective and is never recommended for white envelopes. If a stationery item is printed in silver, consider using grey or a colour for added names. Brown ink and many other colours, including burgundy and green, go very well if black is believed to be too harsh a contrast.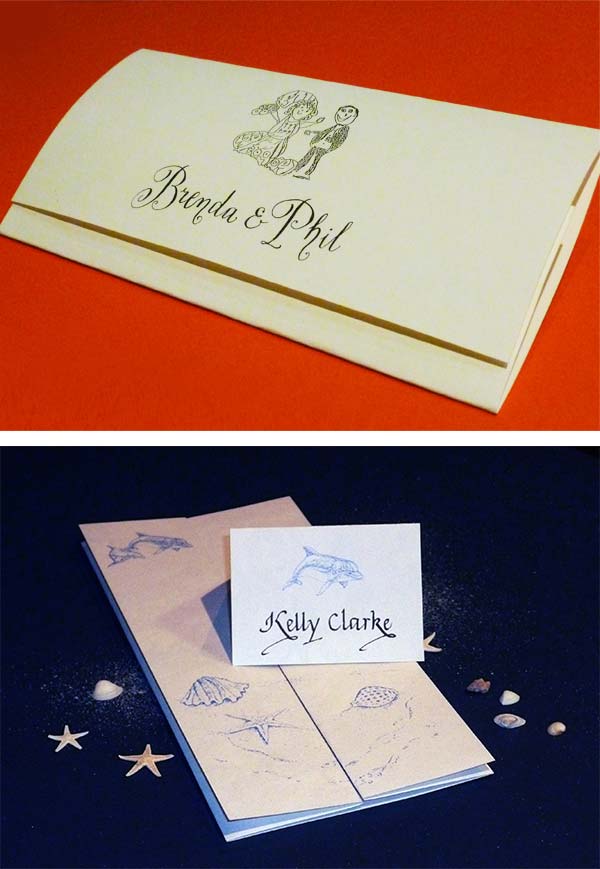 Peter has his own supply of gold, silver and white paint to dilute to write with. He may need to draw pencil lines on dark paper to keep writing straight. He can blend paint to get close to bridesmaid dress colour to write on white nor cream paper, but if you want coloured writing, it will be most cost effective if you can buy and provide fountain pen ink of a shade that you like (NOT waterproof artists' ink).
Top Tip
Peter has looked after brides' requirements for a long time. In consultation, he can design all the wording for your invitations and all stationery items in calligraphy for you to print yourself, or provide scanned files for you to supply a printing company. Or you may decide to pay a printing company to supply the invitations already printed.
BUT…
Before you make your choice and place an order…
Decide how the names of the guests will appear and find the longest names that you intend to be on one line.
Decide how the guest names will be added. Will they be printed using a computer, or will someone write them by hand?
Write or print the longest name/names that need to fit. If this is typed in 17pt Lucida Calligra or Lucida Calligraphy font, it will match the smallest comfortable size that Peter can write in Italic calligraphy. If a family member or friend will do the writing, check how much space they require for this.
When you or your stationer creates the wording layout, ensure that there is enough room to comfortably write the longest entry.
If you are adding a guideline to write on, make sure there is enough room under it for the tails of letters such as 'g'and 'y' not to collide with the line of type below.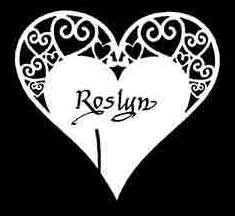 NOTE…
If someone, whoever it may be,  is going to write the guest names on the invitations…
Ask the company supplying the stationery for a sample of the paper or card before placing the order so that ease of writing on it can be checked.
Make sure that it is possible for the person who will write on them to actually do so with the pens they normally use. By arrangement, Peter will always be pleased to test write on the paper you are considering – no charge.
This is important to avoid disappointment if you want a particular look to the writing, because some papers are only suitable for writing on with a ball-point pen or large marker pen – not a calligraphy pen. The manufacturers and printers never tell you that! Like other calligraphers, Peter uses water-based ink and paints. These will not stick to some glossy papers, shiny gold or silver card, photographs or surfaces that have been laser printed …and they bleed and travel along the fibres of oriental and soft papers causing a 'hairy' look. It is also difficult to write on some metallic-look and pearly papers and envelopes in ink. Black ink nearly always looks grey on gold and silvery paper, card and envelopes. Let Peter test a sample before you purchase in bulk.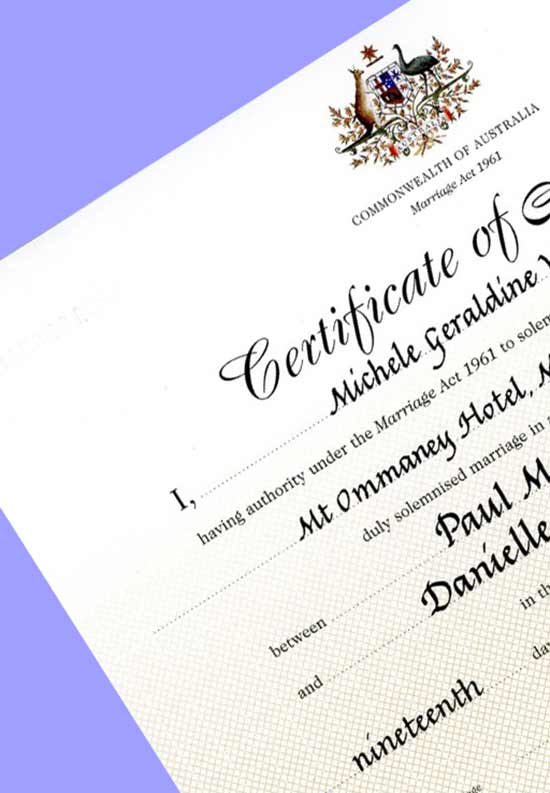 Peter has been able to write on a few unusual surfaces that brides have collected as replacements for traditional place cards …but not on metal, china, plastic, glass or mirrors.  Again, test a sample early in your planning.
Marriage Certificate
It is possible to have a calligrapher complete your marriage certificate in advance, ready for signing. Most celebrants allow a bride or groom to take the certificate to a calligrapher about two weeks prior to the event and return it to them for safe keeping.
Completed in archival quality black ink in Italic style, our charge is $20. It will be calligraphed while you wait, so a phone call prior to delivery is necessary.
If celebrants are not notified about this early enough, they will handwrite or type it themselves. Once this is done, they will probably be reluctant to issue another, as all certificates are individually numbered and have to be accounted for.
Boutique wedding stationery and occasion calligraphy design service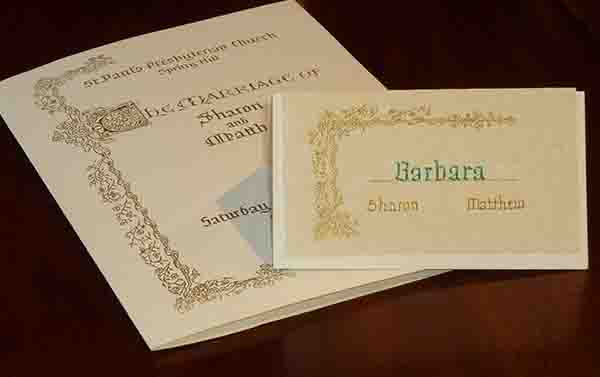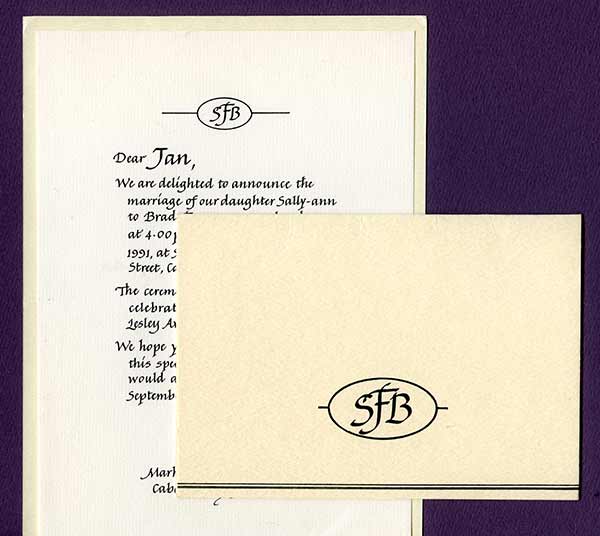 We do not arrange or print stationery, however once you have chosen your cards or paper and can provide the size of the space where words need to fit (and any fold positions that need to be avoided), we can design the wording in calligraphy to suit. For weddings, we can provide the calligraphy for your engagement invitations, save the day cards, wedding invitations, reply cards, 'open house' cards, wishing-well verses, order of ceremony covers and details, place cards, menus, toast lists, thank you cards or letters, and more, giving you complete freedom to choose the words. The artwork will be provided so that you or your printer can scan it and use it to print your stationery.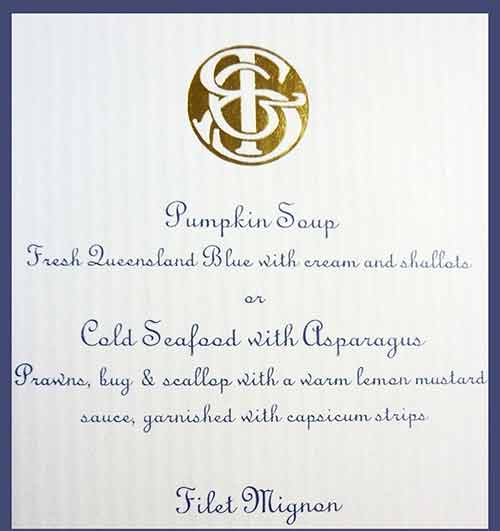 We can also provide calligraphy for office parties, birth announcements, naming ceremonies, baptisms, confirmations, birthday and anniversary celebrations, house-warming parties, New Year and Halloween gatherings, bereavement and more. Bah mitzvah and other occasion calligraphy can also be provided – but the text must use only the Roman alphabet. Someone else will have to write the Hebrew or other language, as required.
All artwork will be completed in black ink and reduced to size if necessary. This allows a printer to cast it into a metal block for printing with gold or silver foil, produce a printing plate for a raised 'verco' effect in any colour, or off-set litho print it also in any colour, or change its colour using Photoshop for digital printing.
Or you may only want a monogram designed or small verse written in calligraphy that can be used to accompany your own typesetting.
The original artwork will be yours to own and keep.
Gifts
You may also consider having a verse or poem or other calligraphic work created as a special gift to your partner, parents, bridesmaids or groomsmen, for example. Please visit the Poems and Gifts, Artworks and other pages on this website for more ideas.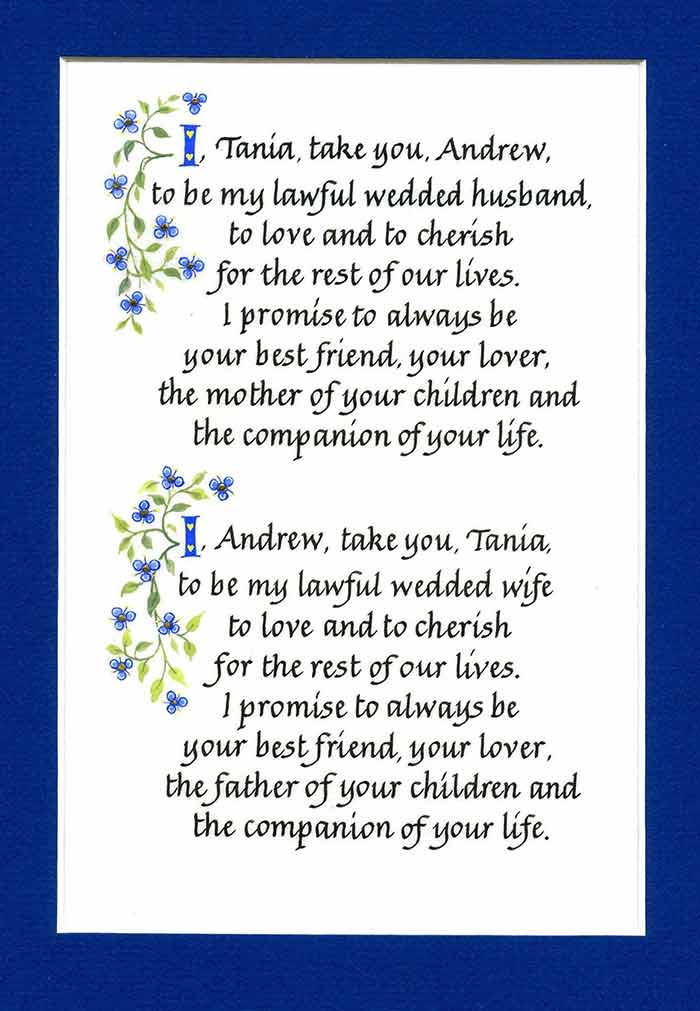 Happy customers…